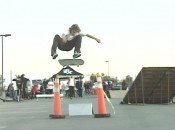 SK8MAFIA Saturday School is a look back into the history of Sk8mafia Saturdays.
This weeks is from November 10th, 2007 Pharmacy Board Shop Demo in Palm Desert. Skated all day into the night. Just having fun.
Featuring: Tyler Surrey, Kellen James, Larelle Gray, Dan Connelly, Brandon Turner, Peter Smolik, and Wes Kremer .
Follow us on insta.gram: @therealsk8mafia
#sk8mafia
@kellensm4l
@caobron
@lord_pillage
@larellegray
@bturner_
@dc24sk8mafia
@jimkappel
@preebz
@smheath
@j_palmore
Follow us on twitter:
@sk8mafia4life
Facebook Fan Page
http://www.facebook.com/pages/SK8MAFIA/138592928940
Any questions regarding the brand
info@sk8mafia4life.com
Online store:
shopmafia4life.com